An apple a day keeps the doctor away! And when the apple is added to a cake or bread, does it still apply? We say YES!!! Most apples are a little tart and sweet, but neither of those characteristics are overpowering. Which makes apples a perfect addition to any recipe, whether it is a bread, cake, or pie, the results are always sensational! That is why we have compiled a collection of our most incredible apple recipes ever. See our pick of most popular apple pies, apple crisps, how to freeze apples, dry apples, and everything in between!
Tips for baking with Apples:
What is the best type of apple to bake with?
There are many types of apples to choose from and although they are all delicious on their own, when baking some hold up better than others. I have tried many (as you can see from the list below) and my all time favorite truly is Granny Smith green apples. They are in every store and easy to find, they are crispy and hold their form well when they have been cooked down. Another type that is a good choice to use is the McIntosh Red apple, this is the green and red apple you see all the time. These hold up well and have delicious flavor too. As for the lovely red apples, they are delicious to eat raw, but when baking them they tend to fall apart and loose flavor.
How do I prevent my apples from turning brown while cooking?
If you have ever baked an apple pie and by the time you are putting the apples in they have turned brown, you are not alone. Even just the sight of the smallest brown spot I get annoyed, they turn fast! I've found a trick that helps stops the enzyme that is resposible for the oxidation, in layman terms…turning brown. If you stir 2 table spoons of honey into 1 cup of water and soak the apple slices in the mixture for 30 seconds. This method will not affect the apple's taste either so it is a win win.
How do I peel an Apple?
Many recipes for apples require that you core and peel them. There are a variety of ways to do this, and they're all simple!
If you're just peeling & coring a few apples at a time: I like to use a basic vegetable peeler, plus an apple slicer that cuts apples into 16 pieces. These smaller slices are better for baking as the apple cooks faster since they're smaller slices. That way the crust/cake or whatever you're baking apples into isn't too dark before the apples are done cooking!
If you've got a large batch of apples to cook: If you use a lot of apples, you probably should consider getting one of these handy peeler corer slicers. You can peel, core & slice half a bushel in about 15 minutes with this tool!
Snickerdoodle Apple Pie Cookie Cups combine two favorite desserts in a bite sized treat! Mini apple pies with a delicious, homemade snickerdoodle cookie crust! Snickerdoodle Apple Pie Cookie Cups are one of my absolute favorite fall desserts. Call them cookies, or call them pies? Either way, they are absolutely delicious and they come together so easily too! See the recipe for Snickerdoodle Apple Pie Cookie Cups here!
Homemade Caramel Apple Pie is a classic apple pie recipe with a pecan caramel twist! Sweet, fresh apples are tossed with a lovely spice blend, then topped with a Dutch crumble topping. Don't forget the caramel drizzle! See the recipe for Pecan Caramel Apple Pie here!
Praline Apple Bundt Cake is made with applesauce, fresh apples and a lovely blend of Fall spices. Delicious apple cake topped with a praline frosting made with butter, brown sugar and pecans. See the recipe for Apple Bundt Cake here!
Easy Apple Hand Pies made with fried cinnamon apples, a buttery crust and topped with a simple glaze. These adorable apple hand pies are pure comfort food and taste just like individual apple pies. See the recipe for Apple Hand Pies here!
Brown Sugar Fried Apples are made easily with crisp, fresh apples, butter, cinnamon and brown sugar! Favorite sweet southern fried apples served alongside dinner or with dessert. Perfect with a big scoop of vanilla ice cream. See the recipe for Brown Sugar Fried Apples here!
These soft and chewy Brown Butter Apple Blondies combine cinnamon-spiced apples, brown sugar, and flavorful brown butter. Then we top them with brown butter icing. If you love apple desserts like I do, these are a must-make! See the recipe for Brown Butter Apple Blondies here.
Snickerdoodle Apple Pie is a variation on classic Snickerdoodle cookies and apple pie! This fun take on a traditional apple pie recipe is perfect for Snickerdoodle lovers! See the recipe for Snickerdoodle Apple Pie here!
Caramel Apple Cider recipe made with apple juice, cinnamon, cloves and nutmeg! Spiced Apple Cider topped with fresh cream and a drizzle of caramel for a hot and delicious Fall treat! See the recipe for Spiced Caramel Apple Cider here!
This easy Apple Fritters recipe is the quickest and best way to make this old fashion treat. A warm, fresh donut with homemade glaze is one of my favorite things. A bit similar to the beloved funnel cake, but WAY better! See the recipe for Apple Fritters here.
Caramel Apple Nachos are easily made by topping sliced apples with caramel, melted marshmallows, chocolate chips and sprinkles! This fun variation of a traditional caramel apple recipe is easier to share and easier to eat too! See the recipe for Caramel Apple Nachos here!
Crunchy Caramel Apple Pie made with a pre-made pie crust, filled with sliced apples and topped with a crunchy sweet streusel, pecans and caramel! Easy apple pie recipe topped with a buttery brown sugar and oat topping instead of a traditional pie crust. See the recipe for Crunchy Caramel Apple Pie here!
Learn how to make apple pie filling with this simple method and recipe! This is a low sugar apple pie filling so that the flavor of the apples really shine. Apple Pie Filling can be used in so many desserts and is a great way to use fresh apples when they're in season. See the recipe for How To Make Apple Pie Filling here!
The star of this cheesecake is the homemade apple butter swirl that blends beautifully with the smooth and creamy filling. This is an easy and flavorful dessert to make, and there is no need to turn on the oven! See the recipe for Apple Butter Cheesecake here.
Easy Apple Turnovers made with puff pastry and apple pie filling for a simple, delicious apple dessert. Puff Pastry Apple Turnover Recipe is made in minutes and topped with a delicious almond glaze. See the recipe for Puff Pastry Apple Turnovers here!
Apple Walnut Bread is a sweet apple bread recipe with walnuts! Perfect apple quick bread recipe with a light glaze that everyone loves! See the recipe for this Glazed Apple Walnut Bread here!
Apple Cinnamon Monkey Bread made with apple pie filling and canned cinnamon rolls. Only two ingredients for delicious cinnamon rolls with lots of apple flavor! See the recipe for this Apple Cinnamon Monkey Bread here!
Snickerdoodle Apple Cobbler is a tasty twist on a delicious apple cobbler. Sweet apple pie filling baked between layers of with Snickerdoodle cookie dough then topped with caramel drizzle and vanilla ice cream! Making apple cobbler with pie filling is a fun way to save time in the kitchen and still get the delicious flavors you want. There's less prep and cook time needed when you make an easy cobbler with pie filling! See the recipe for the Best Snickerdoodle Apple Cobbler here!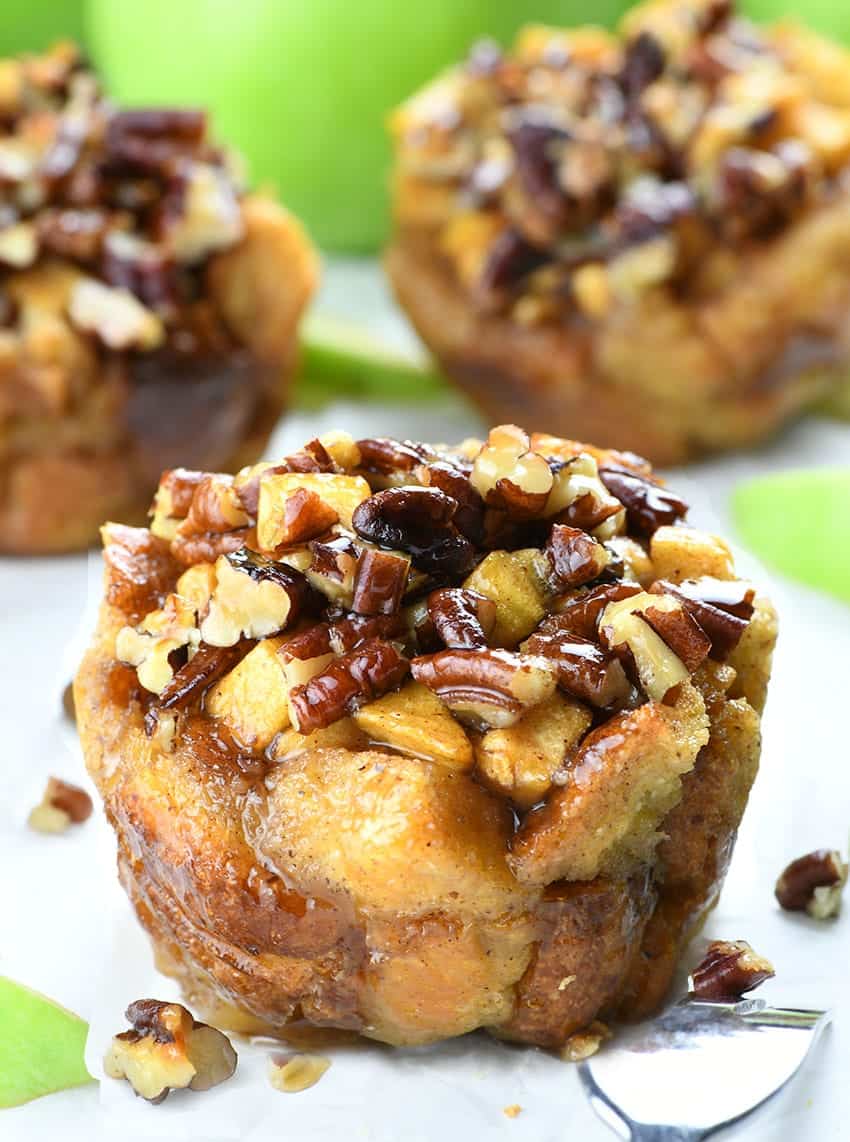 Apple Pecan French Toast Cups are all of the goodness of French toast, cut in small pieces and packed in small cups filled with sweet apple pie filling and irresistible, crunchy pecan topping. With the warm smell of apples, cinnamon, and nutmeg, these cups are perfect bite-sized comfort food for fall. See the recipe for Apple Pecan French Toast Cups here.
Caramel Apple Poke Cake made with spiced cake mix, applesauce and topped with caramel, sweet cream and toffee! Perfect poke cake recipe for Fall! See the recipe for Caramel Apple Poke Cake here!
Apple Pie Quick Bread is made with a cake mix, apple pie filling and then topped with a simple maple glaze. This easy quick bread recipe tastes just like apple pie! Apple Pie Quick Bread is absolutely delicious -so moist and full of flavor! And the best part is how easy it is to make! Only takes a few minutes, one bowl and a wooden spoon to mix it all together. After the bread is baked, make sure to drizzle the glaze on top. See the recipe for Apple Pie Quick Bread here!
Caramel Apple Bark made with milk chocolate, pretzels, caramel and apples. Only four ingredients to make this simple dessert! Fall is my absolute favorite season and part of the reason I love it so much is because of the food. I love soups and stews and apples and pumpkin and all of those delicious fall flavors. Caramel apples have always been a favorite of mine, but they are a little bit tricky to eat and sometimes you just want a little taste, not necessarily an entire apple. This caramel apple bark is so simple to make and I love the addition of chocolate and pretzels – adds a little bit of saltiness, crunch and you can't ever go wrong by adding chocolate! See the recipe for Caramel Apple Bark here!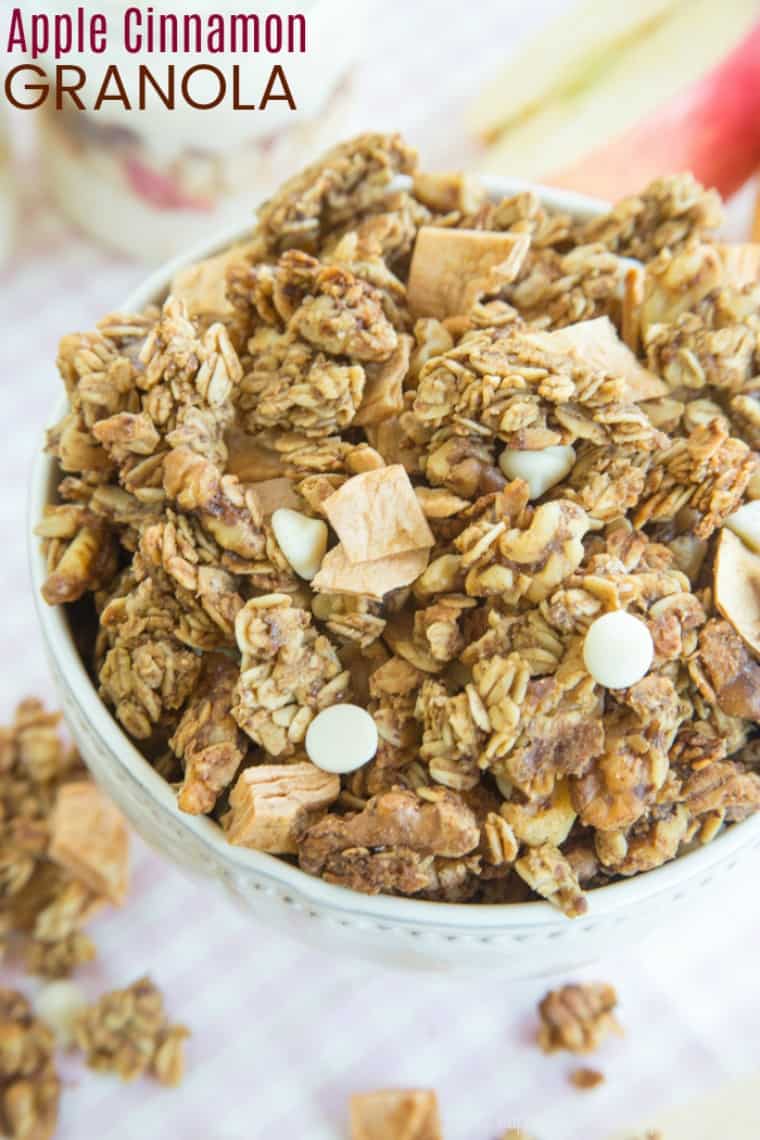 Apple Cinnamon Granola has your favorite fall flavors in a breakfast yogurt topping or healthy snack. With apples, oats, nuts, and cinnamon, it will fill your house with incredible autumn aromas as it bakes. And a few white chocolate chips add the perfect hint of vanilla flavor. This homemade granola recipe is gluten free and makes a great gift! See the recipe for Apple Cinnamon Granola here.
Frosted Applesauce Cake is Fall in cake form! Tender cake with cinnamon and spice, raisins and nuts baked then topped with creamy frosting. Spiced applesauce cake recipe that everyone adores! This applesauce cake recipe is simple and easy, not to mention incredibly versatile! Applesauce spice cake is a great treat to serve this fall or whenever you happen to find too much applesauce going uneaten in the house. Enjoy an easy applesauce cake any time of the year, whenever the mood strikes. See the recipe for Frosted Applesauce Cake here!
Easy Apple Dump Cake recipe with just 4 simple pantry ingredients! Cake mix &and apple pie filling transform into a delicious apple dessert perfect for any occasion. Perfect for a simple treat with the family or feeding a crowd. You are going to love how easy this recipe comes together! See the recipe for Apple Dump Cake here!
Apple Pie Bombs are a fun and tasty way to get all the flavors of an apple pie without all the hassle of baking a homemade pie. Store-bought biscuit dough is used to hold in the apple pie filling and then air fried. For added flavor, the fried apple pie bombs are dipped in butter and rolled into an apple pie spice and sugar coating. See the recipe for Air Fryer Apple Pie bombs here.
Mini Apple Pies are a simple 4 ingredient dessert made with flaky pie crust and apple pie filling. Lovely tastes of apple pie only so much easier to make! Perfect for making ahead and taking along to parties and family get togethers. See the recipe for Mini Apple Pies here!
Apple Pie Bars topped with a buttery crumble and drizzled with caramel for a fantastic take on a classic apple pie! Perfect baked apples recipe for a no-fuss alternative to apple pie. Apple pie bars are easier to make, simple to serve and everyone loves them! See the recipe for Apple Pie Bars here!
Apple Cider Syrup Recipe is made with just 6 simple ingredients and has fantastic bright, fresh apple flavor! Make this spiced syrup made with apple cider for a decadent Fall treat! See the recipe for Apple Cider Syrup here.
Loaded with caramel, apples, and delicious brown sugar, this Apple Monkey Bread is going to be everyone's favorite fall treat! Serve it up for breakfast or dessert! See the recipe for Caramel Apple Monkey Bread here.
Apple Banana Bread made with ripe bananas and diced sweet apple, topped with a cinnamon streusel and drizzled with icing. Our favorite banana bread recipe ever! I've made many a banana bread recipe in my life, but I am going on record saying, this is my absolute favorite. It's a moist and flavorful banana bread with apple chunks in every bite, what's not to like? This recipe is so simple and easy to make that it might quickly become one of your favorites too. See the recipe for Apple Banana Bread here!
Glazed Apple Cinnamon bread made with fresh apple, cinnamon and brown sugar, then topped with a simple vanilla glaze. Easy quick bread recipe with fantastic apple cinnamon flavor. I love glazed apple cinnamon bread! It's so easy to make and great for pairing with soups and stews. Never had sweet bread with your savory dish? No time like now to try it out for yourself and see how great it is. Eating it as a breakfast food, dessert or snack are also acceptable ideas! There's no wrong time to enjoy this cinnamon apple bread recipe. See the recipe for Glazed Apple Cinnamon Bread here!
Dutch Apple Bread made from scratch with butter, sugar and fresh apples. Amazing flavor in this apple quick bread recipe topped with a cinnamon streusel and drizzled with warm vanilla glaze. Dutch Apple Bread is something I love any time of the day. I've always loved it! I have at least 4 recipes I've written already that are similar but I have to say, this one is my favorite! This apple bread has the best flavor and an almost pound-cake like texture- you won't be able to stop eating it. I love how easy it is as well! See the Dutch Apple Bread Recipe here!
Amish Apple Fritter Bread uses classic ingredients like fresh apples, brown sugar, & butter that are baked into a spiced loaf & topped with sweet glaze! This apple cinnamon bread is a twist on the classic apple fritter donut, but in a soft bread form! See the recipe for Amish Apple Fritter Bread here.
Apple Cinnamon Roll Cupcakes are a delicious and easy fall dessert recipe with fresh apples, cinnamon sugar, refrigerated crescent roll dough and maple glaze. Making these gooey apple cinnamon rolls takes less than 30 minutes! See the recipe for Apple Cinnamon Roll Cupcakes here.

Butterscotch Apple Salad is a delightful sweet, creamy salad bursting with Fall flavors! Easy fruit salad made with crushed pineapple, butterscotch pudding mix, apples, raisins & almonds! See the recipe for Butter scotch Apple Salad here.
Caramel Apple Bread bursting with fresh apple, spiced with cinnamon and nutmeg, then topped with an incredibly delicious and easy to make caramel glaze. Fantastic apple quick bread recipe that everyone goes crazy over! Caramel Apple Bread is the perfect recipe for quick sweet bread this time of year. Use any type of apple that you'd like, although I love it with Pink Lady apples. This recipe is easy to make, but it does take some time as you need to cool the bread, then after you drizzle the glaze, you'll have to let the glaze set. It's well worth the wait though as this Caramel Apple Bread has incredible flavor! See the recipe for Caramel Apple Bread here!
Apple Cinnamon Crumb Bars made with fresh apple, brown sugar, graham crackers and cinnamon! Simple baked apple bars recipe topped with a vanilla glaze. You're going to love these apple pie bars with streusel topping because they not only taste great, but they're also easy to make. What makes them even better is that once cut, you have way more servings than with a traditional apple pie! That makes these apple cinnamon crumb bars perfect for family gatherings, potlucks or the holidays! See the recipe for Apple Cinnamon Crumb Bars here!
Cookies for breakfast! Yes please. These Apple Pie Breakfast Cookies are loaded with oats, proteins, and chunks of apples, as well as apple pie spices: cinnamon and nutmeg. Breakfast cookies are easy to make, and offer a healthy, fun way to start your day off with protein. See the recipe for Apple Pie Breakfast Cookies here.
Caramel Apple Éclair Cake is a decadent, no-bake dessert made with graham crackers, spiced apple pie filling & sweet cream. Easy to make layers of caramel apple cream comes together in this sensational apple pie cake! See the recipe for Caramel Apple Eclair Cake here.
Chocolate Caramel Apples are made with melted Milk Duds adding chocolate flavor to classic caramel coated apples! This easy caramel apple recipe is perfect for Halloween or any Fall party! Chocolate Caramel Apples are just as easy to make as the traditional caramel apples, but add a bit of chocolate flavor which is always a good idea! I don't know why I never even thought about melting Milk Duds to make caramel apples, but it is so easy and the taste is absolutely amazing! Milk Duds are one of my favorite candies and they melt down just as easily as regular caramels, plus you don't have to unwrap all those little plastic wrappers! See the recipe for Chocolate Caramel Apples here!
Apple Brown Betty is a traditional American dessert made with crisp apples, butter, brown sugar & toasted bread crumbs! It's a classic dish similar to apple cobbler that everyone loves! See the recipe for Apple Brown Betty here.
Tender, sweet Apple Cinnamon Biscuits made with simple ingredients & baked in a cast iron skillet dotted with butter! Amazing cinnamon biscuits drizzled with a warm vanilla glaze. See the recipe for Apple Cinnamon Biscuits here.
No Bake Apple Bars an incredibly delicious, healthy homemade snack made with dried apples, whole grain cereal, raisins, oats, peanut butter and honey! Perfect no-bake snack for after school eats! See the recipe for No Bake Apple Bars here.
Cinnamon Caramel Apple Dip is made with only 3 ingredients – sweetened condensed milk, butterscotch chips and lots of cinnamon! This easy caramel apple dip recipe is easy and delicious! Cinnamon Caramel Apple Dip only takes a few minutes to make and is made with ingredients that I always keep on hand. My kids (and I) absolutely love this dip and I make it lots of times for an easy after school snack. All you have to do is heat and melt the ingredients together and then it is ready to serve immediately with apple slices. See the recipe for Cinnamon Caramel Apple Dip here!
Apple Spice Cake is a deliciously, moist cake made with fresh apples, applesauce, a blend of perfect spices topped with a caramel glaze! Lovely apple cake perfect for Fall baking. See the recipe for Easy Spiced Apple Cake here!
Easy Apple Crisp recipe that is mouth watering and simple to make. With just a few ingredients from your pantry, you too can make this apple crisp recipe with a delicious apple crisp topping in no time at all. This delicious Apple Crisp recipe was actually given to me by my best friend's mom. She would make this delicious apple crisp for me whenever I would visit her over in Wisconsin. Needless to say, I try to visit her as often as possible. See the recipe for Apple Crisp with Oatmeal here!
Apple Pumpkin Bread is a delicious quick bread recipe made with pumpkin and fresh apples! The crumbly cinnamon and sugar streusel on top adds the most amazing texture and flavor to this delicious pumpkin bread recipe. Pumpkin Bread is a MUST as soon as fall comes around, and I have several favorite pumpkin bread recipes I like to make. One of my favorite fall recipes has always been an Apple Pumpkin muffin recipe that my mom would make every year. I decided to turn that muffin recipe into a bread recipe, and oh my heavens. It's amazing! See the recipe for Apple Pumpkin Bread here!
Snickers Apple Salad Recipe is a sweet side dish loaded with tart green apples, vanilla pudding, whipped topping and, of course, Snickers bars! Snicker Salad is a fruit salad recipe that is always requested over and over! See the recipe for Snickers Apple Salad here!
Easy Cinnamon Apple Cake is made with graham cracker crumbs, apples and just three other basic ingredients! This apple cake recipe is so moist and delicious that no one will believe how easy it is to make! The recipe calls for the cinnamon graham crackers and the cinnamon flavor is perfect. I'm sure that you could use the normal graham crackers too, but just make sure to add some cinnamon if you do that – apples just need to be paired with cinnamon! See the recipe for Easy Cinnamon Apple Cake here!
Caramel Apple Bread Pudding is a delicious dish made from sliced apples and bread combined with a spiced custard, baked and drizzled with caramel syrup. Lovely apple bread pudding recipe that everyone devours! See the recipe for Apple Bread Pudding here!
Crockpot Pumpkin Apple Butter recipe made with fresh apples, pumpkin puree and a blend of heavenly fall spices. Cooked slow to allow for a buttery smooth consistency and an incredible flavor! You can make homemade apple butter in the crockpot with just a few ingredients! It cooks all day, but trust me, it's absolutely worth it! See the Crockpot Pumpkin Apple Butter Recipe here!
Fried Cinnamon Apples recipe that's simple to make and spiced with cinnamon and nutmeg. Fried with butter and brown sugar, they taste incredible with dinner or dessert! Cinnamon Apples are perfect way to use all those fantastic fresh apples right now. They are one of our favorite treats, perfect with a scoop of vanilla ice cream or even served alongside fried chicken with dinner. They're super versatile too- feel free to swap in your favorite apple or whatever variety you happen to have on hand. The increased heat at the end helps give the apples a deeper flavor- try it! See the recipe for Fried Cinnamon Apples here!
Maple Pecan Apple Crisp made with oats, pecans, brown sugar, butter and apples in a perfect Fall dish bursting with fresh apple flavor! Topped with real maple syrup, this apple crisp recipe is our all-time favorite! Warm apple crisp with a scoop of vanilla ice cream on top is one of my favorite desserts. This recipe is easy to make and is very traditional when it comes to apple crisp. I love the pecans, but you're welcome to leave them out, or replace them with walnuts, cashews or slivered almonds instead. Don't leave out the maple though! The maple and apple flavors pair beautifully. I use maple extract to toss with the apples, then drizzle real maple syrup on top after the apple crisp is baked. Maple extract can be found on the baking aisle of the grocery store, by the vanilla extracts. See the recipe for Maple Pecan Apple Crisp here!
Apple Pie Fries are small strips of apple pie with a flaky crust and a simple applesauce filling. The Apple Pie Fries are fried and then tossed in cinnamon and sugar to complete this sweet, Fall time dessert. See the recipe for Apple Pie Fries here!
Easy Apple Dumplings recipe made with just a few ingredients- one apple, brown sugar, crescent dough and lemon lime soda! Simple recipe for apple dumplings in a sweet caramel-like glaze that tastes delicious. Country Apple Dumplings are the easiest baked apple dumplings EVER! They're made with crescent rolls, then baked with butter-cinnamon sugar perfection- plus some 7-Up! Try them- you'll love them! Some of the ingredients might make you wonder, but trust me on this one: these are impossibly delicious. They taste like a small piece of apple tart heaven! They're best when served immediately, with a scoop of Cool Whip or vanilla ice cream. See the Easy Apple Dumplings Recipe here!
Caramel Apple Snickerdoodles combine the taste of your favorite cinnamon/sugar cookie with the deliciousness of chewy caramel and fresh apples too! Caramel Apple Snickerdoodles came about as I was trying to come up with a fun fall twist on one of my favorite cookie recipes. The snickerdoodles are fabulous on their own, but add the apples and caramel and these cookies become absolutely unbelievable. I wish I could explain how good these are, but you will just have to try this recipe so you can discover the goodness for yourselves. See the recipe for Caramel Apple Snickerdoodles here!
Toffee Apple Dip is made with cream cheese, brown sugar and toffee bits! Perfect for any gathering or an after-school snack. Apple Dip is made in minutes and delicious. It's perfect for any social gathering or even an after-school snack at home. You can prepare the entire dip ahead of time, including prepping the apples. Just toss the apple slices in a ziplocked bag with a couple teaspoons of lemon juice. Close the bag and shake gently to coat all the apples. Then just serve the dip and apple slices after the dip has chilled for a bit. See the recipe for Toffee Apple Dip here!
Caramel, apples, and crisp topping are what this dessert is all about. Every bite just SCREAMS FALL and you won't help but fall in love with this simple Caramel Apple Crisp recipe. See the recipe for Caramel Apple Crisp here!
Like most of you, I am obsessed with all things pumpkin these days, and this quick and easy Pumpkin Apple Dessert Pizza is absolutely amazing! I used a Krusteaz Pumpkin Spice Cookie Mix to create the crust as well as the crumble and glaze that goes on top of the apples, so the whole recipe comes together extremely easily and fast too! Krusteaz has several different seasonal mixes and we have been enjoying all of them at my house this fall! See the recipe for Pumpkin Apple Dessert Pizza here!
I once had the opportunity to try out #theHolidayBox from @AcornInfluence. It was so fun! A giant box was left on my doorstep- what on earth was inside?! Well, let me tell you… Actually, let's both sit down for some breakfast and I'll start talking. Pumpkin Pancakes with Cinnamon Apples sound good to you? Yep, they are delicious and I made them with products I found inside the box! See the recipe for Pumpkin Pancakes with Cinnamon Apples here!
There's nothing quite like two incredible desserts merged into one. I mean, who doesn't love a nice piece of fresh apple pie? Or a cold and creamy milkshake? Put those two together for an Apple Pie Milkshake and it's a win! I had one at Johnny Rockets and it was magical- I knew then I'd have to recreate the masterpiece at home. It's easy to whip one of these up and it tastes just like apple pie. See the recipe for Apple Pie Milkshakes here!
This Waldorf Salad is the perfect accompaniment to your Thanksgiving table. Made with diced green and red apples, celery, dried cranberries and walnuts topped with a cinnamon vanilla greek yogurt dressing it's sweet, light and the perfect addition to compliment the other dishes. See the recipe for Waldorf Cinnamon Apple Salad here!
This delicious Creamy Apple Smoothie recipe is one I actually just got from my child's preschool teacher after the class made these at school for "apple" week. The kids absolutely loved these smoothies and I love that they are fairly healthy since there are real apples and apple juice involved! See the recipe for Creamy Apple Smoothies here.
Butterscotch Apple Cookies are delicious and flavorful. With butterscotch chips and freshly grated apple this treat tastes like fall in every bite. See the recipe for Butterscotch Apple Cookies here.
Apple Cinnamon Oatmeal Cookies are the perfect fall cookie! It is like a delicious bite of pie in cookie form plus they are much quicker and easier to make! See the recipe for Apple Cinnamon Oatmeal Cookies here.
I was flipping through an old Betty Crocker magazine and found these darling Caramel Apple Cookies and immediately began assembling ingredients. I had glanced at these cookies a few times over the years but never made them because I thought they looked too time consuming. I'm relived to say they were much, much easier than I thought they'd be! See the recipe for Caramel Apple Cookies here.
Pumpkin Apple Streudel Muffins are the moist and flavorful treat you needed this fall. With chunks of apple nestled in a pumpkin muffin and covered in a homemade streudel crumb topping, these muffins are absolutely to die for! See the recipe for Pumpkin Apple Streudel Muffins here.
Simple Crockpot Applesauce is a delicious way to make your own homemade healthy applesauce from scratch. With just a few ingredients and a little time, you can have your own applesauce that's completely customizable! See the recipe for Crockpot Applesauce here.
Freezing Apples
Many of you have asked what I've done with my boxes of apples that were given to me, so I thought I'd take a few minutes and show you! This post has a ton of pictures because I think it's very helpful to see what I'm talking about.
I don't have the necessary items to properly can anything, so I froze a lot of the apples in a variety of ways. One item you need to do just about anything with is Fruit Fresh. It's essentially ascorbic acid (vitamin C) that works to preserve the color of the apples even after cut. I bought my bottle at Walmart for $3.44 and after using it constantly for the past 2 weeks, I still have some left! You can use lemon juice, but ascorbic acid works much, much better and it doesn't alter the taste of the apple, which I like.
Freezing sliced and diced Apples
One of the most basic things I did with my apples is peeled, cut, cored and diced them to freeze. I borrowed one of those handy apple Peeler-Corer-Slicers like the ones
here
and it made a daunting task quick and bearable! After you peel, core and slice the apple, put it in a bath of water mixed with Fruit Fresh to sit for about 5 minutes. Next, set the apples out on a cloth to dry out a bit. You can then dice or slice them. I did both! I did 3 layers of each on large trays (pieces of Saran wrap between the layers), which I then put in the freezer. Once they were frozen, they break up individually and I put them all in a large ziplocked bag.
I love to use diced apples for
pancakes
, and
muffins
, as well as my
Double Apple Walnut Bread.
The nice thing about freezing diced apples is that when thawed, they're soft, so they bake into these items nicely.
Here are some recipes for my frozen sliced apples:
Homemade Cinnamon Apples
I was going to make
homemade applesauce
but we decided we'd enjoy homemade cinnamon apples much more. Instead of using the apple peeler-corer-slicer, I just peeled them with a potato peeler and then used the corer-slicer that slices them into larger pieces. I used 30 medium-small apples and this process took me about 20 minutes.
I searched the Internet for a good recipe, but didn't want something loaded with sugar, so I came up with my own. It worked out great! The only thing is, despite using several tablespoons of corn starch, the juice didn't thicken much at all! The apples taste delicious though, so I consider it a success. Here's what I used:
30 medium- small apples, peeled, cored & sliced
1 cup brown sugar
1 1/2 teaspoons cinnamon
a few dashes of nutmeg
2 TBSP butter
3 TBSP cornstarch
Place sliced apples in crock pot. Mix remaining ingredients, except butter. Pour over apples and stir well. Dot apples with butter. Cook on medium for 4 hours, stirring intermittently. Enjoy!
Note: Depending on how many apples you use, the time required to cook them will vary. Check often after about 3 hours. You want to apples to be tender, but not mush!
I don't have a fruit dehydrator, so I made these the "old fashioned way." It was easy!
Use the apple peeler-corer-slicer and place apples in the Fruit Fresh bath afterwards. Dry apples on a cloth and then make 1 cut through the apple, so that the slices separate. Lay apples out on a piece of parchment paper on a baking sheet. Sprinkle with a bit more Fruit Fresh, then follow with a bit of cinnamon-sugar mix. Bake in low oven for 10-12 hours. The lowest my oven goes in 170 degrees. I baked the apples for 12 hours, then turned the oven off and just let them sit for another several hours.
My plan was to use my Food Saver to make pouches of apples, to eat over the next year or so, but each time I make a batch they disappear! Note: you can reuse the pieces of parchment paper several times!
We hope you enjoy this compellation of our best and favorite apple recipes. Try making one, or two, or five and treat yourself to some incredible treats with this popular and favorite fruit!