Sunday dinner is special in our house, so I try and make a family favorite meal that everyone will enjoy. Slow cooker recipes are always a favorite! I love that I can essentially make the dinner in the morning and not have to worry about it the rest of the day. We smell the delicious aromas throughout the day and by about 6pm, everyone is excited for dinner!
Here are a handful of my all time favorite meals to make for Sunday dinner. What's a favorite at your house?
Best Slow Cooker Beef Stew is made with tender chunks of beef, loads of healthy vegetables and a simple mixture of broth and spices that yields incredible flavor. Try this Beef Stew recipe made in the slow cooker and you are sure to save time and have an extremely satisfying meal too!
Crock Pot Beef Stew is one of our favorite meals when it is cold outside. I could have soup or stew for dinner every night from November to March and be perfectly content. This recipe is a culmination of years of recipe testing to find the absolutely Best Slow Cooker Beef Stew recipe. This one hits the spot every time, give it a try and find out what all the 5 star reviews are about! Don't believe me, just check out the rave review this recipe received from the Today Show Today.com as one of the top Beef Stew recipes to try.
We make our Buttery Soft Dinner Rolls to serve alongside this beef stew recipe.
Slow Cooker Pork Roast that's made with simple ingredients and ready to cook in minutes! Fall-apart tender pork with a flavorful gravy on top make this crock pot pork recipe amazing. I recently added Instant Pot instructions because if you've never made a pork roast in your instant pot, you've GOT TO TRY IT!
Our Crock Pot Pork Roast is made with broth, balsamic vinegar for a great boost of flavor, soy sauce, honey and garlic. The gravy is made with the juice that cooks off the roast too. It's moist and flavorful and perfect for a Sunday family dinner or entertaining guests.
Serve pork roast alongside these fantastic dishes:
Crockpot ham and bean soup made easy with a ham bone, dried beans & vegetables. Simple & flavorful slow cooker recipe that uses leftover ham and pantry ingredients.
This is quite possibly the best ham and bean soup recipe that I've ever had! It's super simple to prepare and after a few hours of cooking, this slow cooker ham and white bean soup tastes (and looks) incredible.
It's a simple broth soup filled with shredded or chunked ham, veggies and a lot of those white beans we like. Every bite is packed with protein, flavor, and blend of texture that work well with one another. You can use leftover holiday ham to create this simple soup recipe or buy ham for the occasion, either way- it's worth it to try.
I love serving ham soup with Bacon Cheddar Cornbread or my Easy Cheesy Mini Cornbread Muffins.
Slow Cooker BBQ Pulled Pork is juicy, tender and packed with flavor. This simple crockpot pulled pork recipe is perfect for sandwiches, or even just served over rice.
I usually make this recipe for weekdays because it's ridiculously simple. But I love to make it on warmer Spring or Summer Sundays so we can eat outside! This BBQ Pulled Pork recipe can be prepped in the morning (with only a few minutes of prep!) and then the pork cooks all day long.
It starts with a bottle of your favorite barbecue sauce, then you add some spices and peppers and onions to make the flavor even better. The recipe is super easy to make, but tastes so much better than just using plain BBQ sauce straight out of the bottle! This is absolutely the best pulled pork recipe that I've ever tried – it's easily become a family favorite! Such an easy recipe to put in the regular meal rotation too.
Side dish ideas for Pulled Pork Sandwiches:
Slow Cooker Dr. Pepper Roast is an easy to make, tender roast made with just 5 ingredients. Packed full of flavor, this crockpot roast recipe is perfect for any Dr. Pepper lover.
If you're looking for the perfect meal for Sunday dinner then this moist slow cooker roast beef recipe is the thing you need! Save the drippings in the slow cooker for a simple homemade gravy afterward and it tastes like heaven. It shreds apart flawlessly and tastes so tender and incredible.
Dr. Pepper Roast is a slow-cooked chuck roast in your crockpot that combines the soda with beef broth and seasonings to make a flavorful roast that falls apart at the touch of your fork. Dr. Pepper helps to add a small amount of sweetness and flavor but honestly, it does so much more than that! The soda actually helps to break down the tough tissues in the roast making it even more tender as it cooks. Amazing, right?!
This tender roast beef is amazing served with these side dishes:
Easy Slow Cooker Turkey Breast recipe made with butter, a sliced apple and a basic mix of traditional seasonings. Crock pot turkey breast recipe perfect for any time of the year!
My family loves turkey anytime of the year and this Slow Cooker Turkey Breast recipe is one of our favorites. Cooking the turkey in the crock pot helps the turkey be super moist and juicy. It's also incredibly easy to prepare and I tend to have all the ingredients on hand. The apple lends a slightly sweet flavor that is wonderful.
It's so incredibly simple to cook a turkey breast in a crock pot. This method of cooking locks in flavor and moisture so dry turkey is a thing of the past! My slow cooker turkey breast recipe uses common ingredients like an apple and butter as well as herbs like rosemary, thyme and sage to add amazing flavor. I like to use onion powder so that I get the onion flavor while saving time and not having to chop an onion.
I love serving slow cooked turkey with:
Crockpot Boneless Chicken Thighs are the perfect hearty, comforting dinner! Tender, slow cooked chicken thigh recipe with creamy potatoes, carrots and a spice blend with amazing flavors!
These crockpot chicken thighs are a one-pot meal that will easily find a way into your meal plan rotation. If you are looking for an easy dinner idea, then this easy chicken dinner recipe is for you!
Serve up this boneless chicken in this crock pot recipe whenever the mood strikes, and it is sure to be just as tasty and comforting as you would hope. I love a great dinner idea that is as easy as preparing some ingredients, dumping into a crockpot and letting it be.
A few side dish ideas to serve with this are:
Slow cooker orange glazed ham is an effortless recipe that's perfect for any holiday feast. Made with just 4 ingredients in your crockpot, this is one dish you won't have to stress over.
Making our ham with orange juice glaze is very easy and simple which just means there's one less thing to worry about on Sunday. Years ago I experimented with cooking a ham in the crockpot and it worked out so well I've cooked them that way since! You can check out one of my favorite Slow Cooker Ham recipes here– but this time I needed something even faster and easier. And you know what- it was incredible! I think this might be my new favorite way to slow cook a ham!
This ham is amazing served with:
This traditional Beef Stroganoff is made in the Slow Cooker with the best combination of ingredients that add so much flavor. Extra creamy with lots of ways to thicken it up, including my homemade condensed cream of mushroom soup.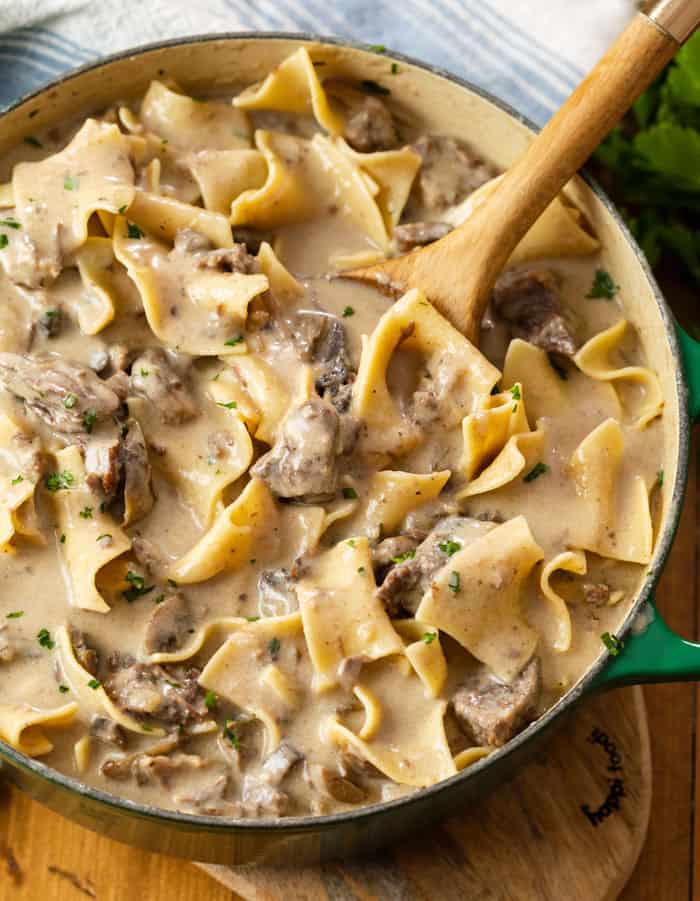 I don't think it gets more hearty and delicious than Slow Cooker Beef Stroganoff. I am all about grabbing a nice Chuck roast when I'm at the store because it's an economic piece of meat, especially if it's on sale. The only trade off is that you need to give it plenty of time to render and cook slowly until it's melt-in-your-mouth tender. (Pssst: you can be economical and use browned ground beef instead!)
This recipe makes a lot of sauce so that each and every egg noodle is completely smothered. And I'm not shy when it comes time to thicken it up at the end.
Serve with Creamy Grape Salad and Cinnamon Biscuits with Honey Butter.
This Crockpot Meatloaf is a great way to enjoy classic comfort food! Making it in the crockpot means less stress, and dinner is ready when you get home!
This recipe is amazingly flavorful and easy, thanks to using dried stuffing mix in place of breadcrumbs. It may seem odd, but all the great seasonings are already in the stuffing mix, so it's several steps in one! The glaze on top of the meatloaf is insanely good; made with ketchup, minced onion, brown sugar and vinegar for a little tang.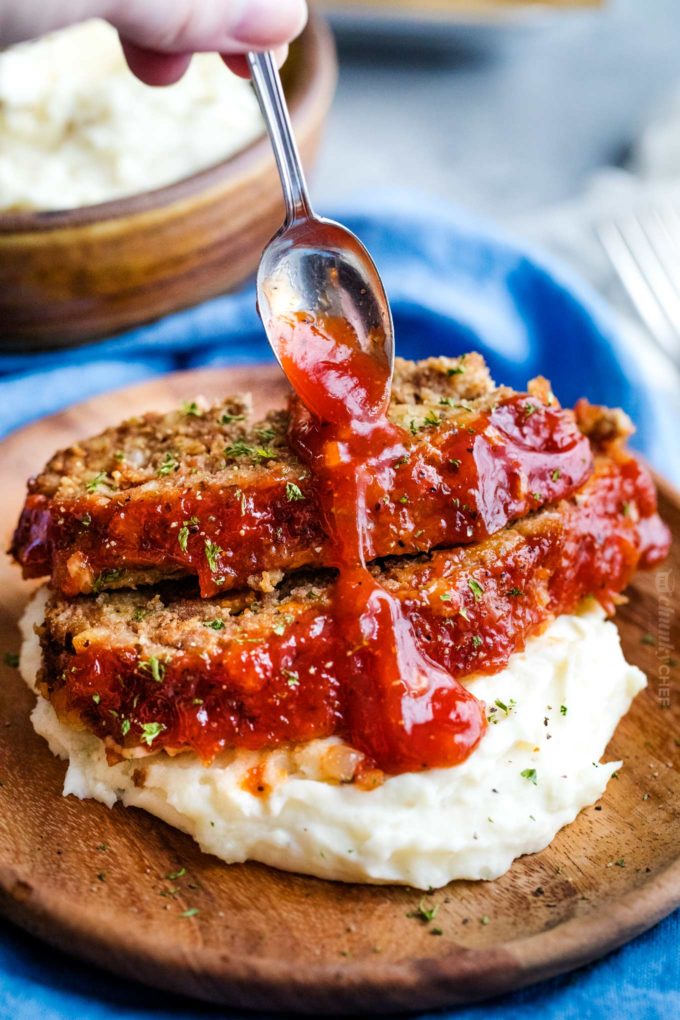 Meatloaf is fantastic served with Creamy Mashed Potatoes and Sugared Asparagus.
What is a Good Meat Thermometer?
A good meat thermometer is key. My all-time favorite meat thermometer is the Thermapen. It's super fast and incredibly durable. Another great meat thermometer is the ThermoPop, a more basic version that works just as well! 
Best Crockpot Recipes to Serve for Sunday Dinner
Amazing slow cooker recipes that are perfect for Sunday dinner. Less stress, minimal prep & simple ingredients!
Print
Pin
Rate
Ingredients
Best Slow Cooker Beef Stew

Tender Crockpot Pork Roast

Incredible Ham & Bean Soup

Easy BBQ Pulled Pork

Slow Cooker Dr. Pepper Roast Beef

Juicy Crockpot Turkey Breasts

Slow Cooked Boneless Chicken Thighs

Easy Orange Glazed Ham

Creamy Slow Cooker Beef Stroganoff

Glazed Meatloaf
Instructions
Get your slow cooker out, plug it in and get it heating up.

Choose one of the amazing Sunday dinner recipes.

Follow the directions to make your family an incredible meal! ENJOY!