FLOWER POWER BANANA SNACK
Flower power… in the form of fruits and nuts! See the recipe here.
MONKEY SEE, MONKEY DO
BE MY VALENTINE…
BUTTERFLY AWAY
TOO COOL CATERPILLAR
I used M&Ms for the body. They're optional, but really, they're way more fun. Don't skip out on the pretzel with fruit snack feet. It's too cute! See the recipe here.
TROPICAL SNOWMEN
Loving the string cheese hair and almond lips. You can stick these tropical snowmen on a popsicle sticks like I did, or simply lay them on the plate. See the recipe here.
A BEARY CUTE PICNIC
This one is easy and tasty! Just layer a slice of bread with peanut butter and a few small elements create this cute bear. See the recipe here.
BANANA RAMMA CARS
Vroooooooom! You just need a few stick pretzels, slices of banana and a sheet of graham crackers to create these little cars. Let the races begin! See the recipe here.
SNEAKY BANANA SNAKE
There's a snake in my boot! Okay, maybe not. I don't even like snakes and I think this little guy is cute! This one is great served to a group of kids. See the recipe here.
WALL-E BANANA SNACK
YOU ARE MY SUNSHINE
You're going to love these easy Banana Cream Pie Muddy Buddies! The white chocolate and banana pudding mix flavors covering the crunchy Chex cereal make this recipe irresistible! See the Banana Cream Pie Muddy Buddies recipe here!
Double chocolate banana bars made with 5 bananas & double the chocolate for a tasty banana recipe that everyone enjoys. Not too sweet & perfect anytime! See the Double Chocolate Banana Bars recipe here!
Nutella Banana Muffins give you that delicious "treat" taste with the Nutella, in an amazing homemade banana muffin! Perfect for breakfast, snack or treat! See the Nutella Banana Muffins recipe here!
Peanut Butter Banana Bars are packed with bananas, whole wheat flour, peanut butter and chocolate chips. Perfectly sweet, filling & satisfying snack! See the Peanut Butter Banana Bars recipe here!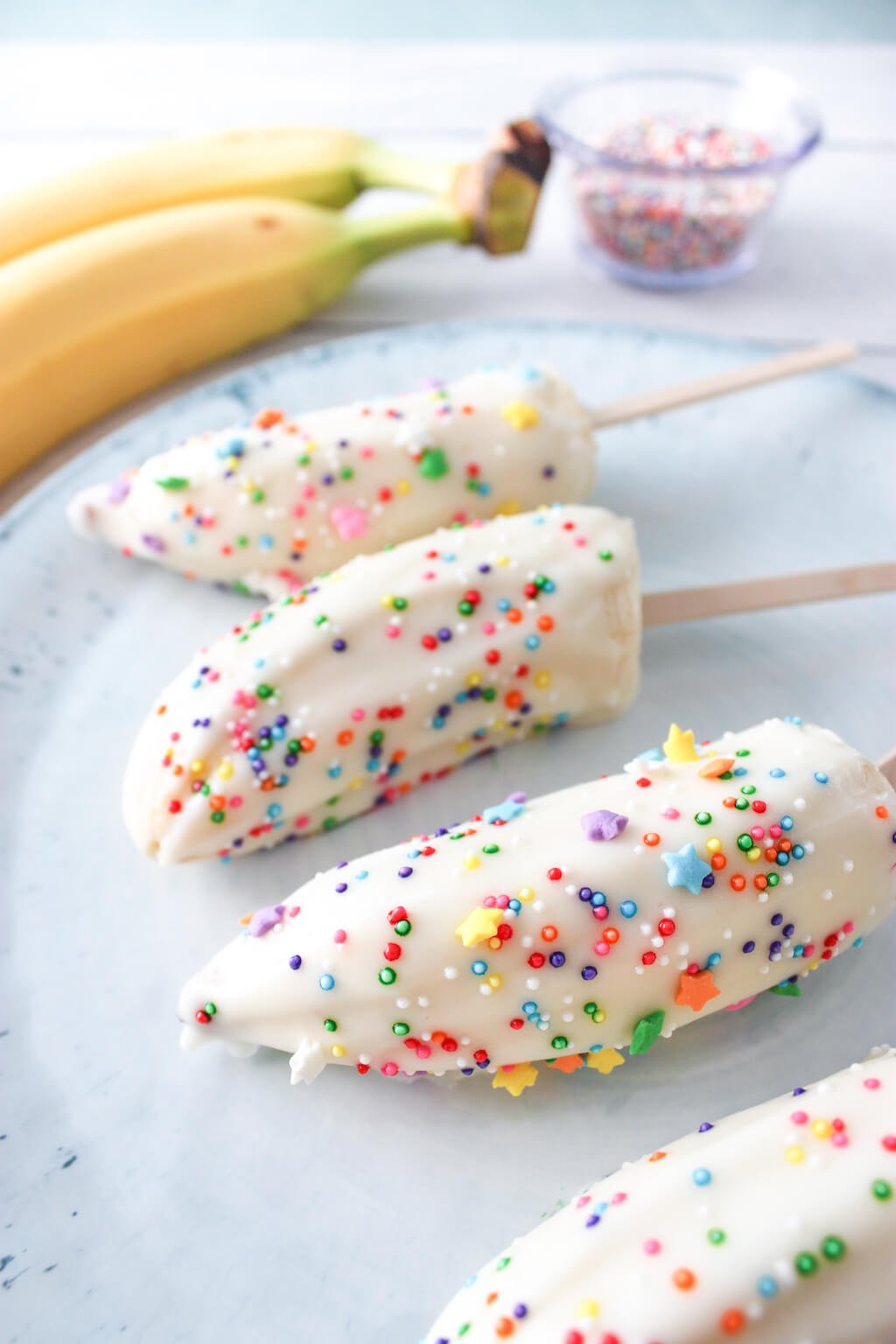 Nothing says summer like frozen treats and food on a stick. This recipe for Frozen Banana Yogurt Pops is the best of both! Deliciously fun, enjoy them in the backyard or poolside. They are sure to be loved by kids and adults alike. See the Frozen Banana Yogurt Pops recipe here.
So, with that in mind, we were watching PBS Kids during spring break and before each show they have a "fun craft idea" and it was bananas on a stick. And the kids wanted to make it – because they always want to make whatever is shown – and I normally don't go for it, but I thought why not. So we made them, my kids were all LOVING it. And I thought – time to step it up a notch. If it's bananas on a stick you want, then game on. See the Banana Peanut Butter Bites recipe here.
Frozen Banana Yoghurt Bites from Eats Amazing
Following on from the hugely popular frozen fruity yoghurt bites recipe from my easy recipes for kids series, today I'm sharing a new version of the recipe with a yummy banana twist – frozen banana yoghurt bites. See the Frozen Banana Yoghurt Bites recipe here.
Sledding Penguins Frozen Banana Snack from Reading Confetti
Banana sushi is one of those snacks in my mom toolbelt that is always a home run. My kid happily gobbles down this simple snack and this simple peanut butter and banana snack sticks with her a little longer. Have a kid coming home from school starving? Make this banana sushi for a simple but quick and easy snack that keeps them full. See the Simple Banana Sushi recipe here.
Snacks with Bananas are cute, fun, healthy snacks perfect for any kid! These banana snacks are good for any day, and any time.